You can control the layout of dynamic pages ( for example: yourdomain.com/sc/anderson/land/0-200000/ ) just like normal pages. See how…
Rover has always given you choices when setting up your Login / Register component.  This important and visible component makes it easy for visitors to register on your website, so they can save searches and track their favorite listings.  Previous choices were to add a dropdown button at the top of each page (automatically):

You could also add a helpful button bar to the top of each page.  This bar would allow visitors to see and do more:

In the upcoming Rover IDX 2.0, you'll be able to integrate the Login / Register components right into your WordPress menu.  You will have the ability to attach to the primary or secondary WordPress menu.  This continues the trend to add these components and make them look like they were always part of whatever theme you chose:

The menu behaves just as you would expect.  When you are not logged in, you get these choices:

And when you are logged in, you get these choices:

Setting this choice is very easy.  In the Rover IDX plugin settings, you just have to select which type you want: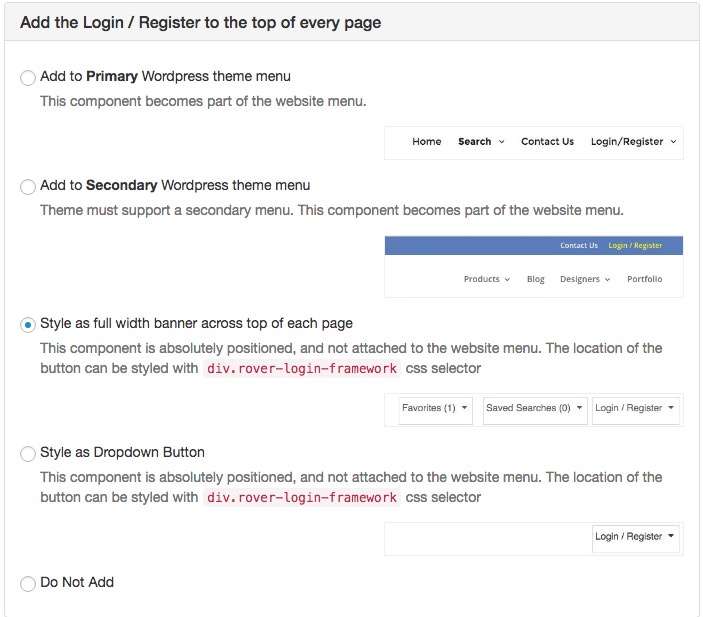 This level of seamless integration is another important step that allows you to pick whatever theme you want and still have a beautiful and custom real estate website.
Rover makes it easy.  You can choose from our growing list of listing layouts, or you can create your own.  We are thrilled to tell you we've released two new layouts for you to choose from:
Cube Clean
Cube Clean is a redesign of our popular Cube layout.  It's elegant and uses the 'Lato' font, to crisply display more information for your visitors.
AgentPress Pro
AgentPress Pro is a theme that mimics the Genesis AgentPress Pro theme.  If you are using this theme with Rover IDX, choosing the AgentPress Pro layout lets insert Rover into the theme with flawless results.
These layouts, like all our layouts, are mobile responsive.  Gorgeous on a 30 inch monitor, and still gorgeous on an iPhone or Android.
A simple click lets you choose one of our 6 layouts as your default.