The Links feature automatically builds clickable links that navigate to specific types of properties.  It might be properties in a specific list of cities, property types, counties, subdivisions, and zip codes.


Links are available two different ways:
1.  As a WordPress widget.  Add the widget to a sidebar or footer, and specify the cities you care about.  If you've setup your preferred cities in Rover IDX >> General >> Default Cities, you can skip this step.  Note that this Quick Links widget is limited to display the Cities or the City,Area links: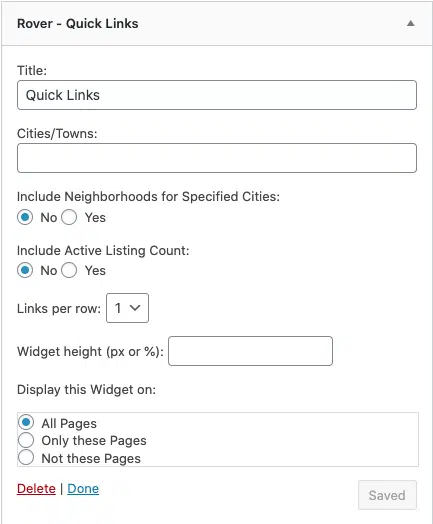 2.  WordPress has a concept called shortcodes, and Rover IDX provides highly flexible shortcodes that allow you to place specific content (links, in this case) wherever you want.  The examples on the https://demo.roveridx.com/links/links-city/ pages provide you with shortcode examples (enclosed in the gold box) for each Link configuration.  It may look daunting, but the examples are trying to use all the parameters available, which you typically will not need.
And yes, these links are AUTOMATIC.  They refresh instantly, each time your page is loaded in a browser, to display the most up to date information.