Did you know you can also add Custom Listings, not found in the MLS, exclusively for your website? The optional Custom Listing feature easily allows you to create, edit, and manage your custom listings.
Significant features:
Custom listings can be any property type - land, single family, condo, commercial, rental...
Create Pocket Listings for properties not yet uploaded to the MLS, and also any sales or rental listing not intended to upload to the MLS.
Display these custom listings intermingled with MLS-sourced listings. Visitors can specify their search preferences, and see both MLS-source properties and your custom listings in the same results.
Custom Listings are frequently used to manage and display Vacation Rentals. Those key features include:

Specify different rental rates depending on date and rental term (yearly, monthly, weekly...). You can have an infinite number of rental rates per listing.
Display Availability Calendars and allow searching by available dates.
Leases can be generated and sent for Custom Listings from the Custom Listing Panel.
Lease reports - Property and Owner report, Check In report, as well as a Disbursement report.
Rental Prices can be setup yearly, seasonally, monthly, weekly, and daily:

Images can be added, re-ordered, removed, and removed with ease: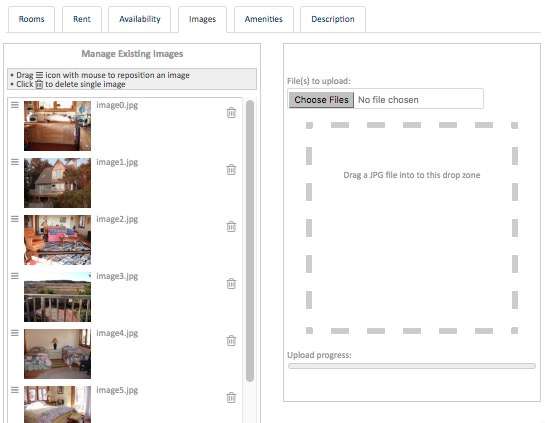 Displaying with shortcode
All custom listings inherit the property type "<property_type>private". For instance, to display a page with your custom rental listings:
[rover_idx_full_page prop_types="rentalprivate"]
To display a page with your MLS-sourced single family homes as well as your custom single family and custom condo listings:
[rover_idx_full_page prop_types="singlefamily,singlefamilyprivate,condoprivate"]